P I C T U R E W O R L D
Translated from the Danish by
Roger Greenwald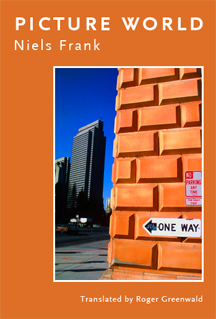 "Én Vej [Picture World] is extraordinary: not only a stylistically refined and intellectually challenging book of poems, but a work of great beauty." — Peter Stein Larsen, Kristeligt Dagblad
"Niels Frank's symphonic Picture World is a vivid, worldly, spellbindingly sustained aria of anguished yet eager perception—up-to-the-minute, bleakly witty, multichromatic, moving in every sense of the word. Roger Greenwald's brisk translation is an uncanny act of poetic forgery: the language feels and sounds strikingly original." — Stephen Kessler
Picture World is the first complete book by the Danish poet Niels Frank to be published in English. By turns funny and serious, ironic and sincere, droll and sly, conversational and playfully inventive, it draws the reader into a set of contemplations that grows more and more complex as its elements recur, reinforcing and undercutting one another, casting light but also doubt. As a poetic sequence in twenty-four parts, this is a work of high ambition. Its signal achievement is to use an accessible voice to present a deeply nuanced composition.
As the title suggests, pictures play a special role. Visual images not only serve as metaphors and similes, but appear in the form of photographs described in the poems. Reviewing photos taken during travel and sojourns abroad, the speaker feels moved to offer both narratives and thoughts that the pictures inspire. In each poem the photos are grouped according to the motifs in them—windows, road signs, sunlight, etc.—and the speaker describes these photos for another person, who is unfamiliar with the motifs and their stories. Only at the end of the book does the reader understand who this other person is and realize the nature of the speaker's connection to his listener.
‡
Niels Frank (born 1963) published his first book in 1985. He has published six books of poems, two of essays, two that mix genres, a collection of narratives about well-known artists (and one anonymous forger), and a volume of photos. He has also translated poetry into Danish (notably that of John Ashbery and Anne Carson).
‡
Roger Greenwald has won the CBC Literary Award twice (for poetry and travel literature). His books include, Connecting Flight (poems), Slow Mountain Train (poems), North in the World: Selected Poems of Rolf Jacobsen, winner of the Lewis Galantière Award, and Guarding the Air: Selected Poems of Gunnar Harding.
Toronto: BookThug, 2011.
ISBN 1897388853 | ISBN 9781897388853
English only; 96 pages; 9 x 6 inches; perfectbound; $18


Read a poem from Picture World

Watch video of me reading three poems from Picture World
Blog review of Picture World by Lars Bukdahl (in Danish)