G U A R D I N G T H E A I R

S E L E C T E D P O E M S O F G U N N A R H A R D I N G
Translated from the Swedish&nbspand edited by
Roger Greenwald

Winner
HAROLD MORTON LANDON TRANSLATION AWARD
from the Academy of American Poets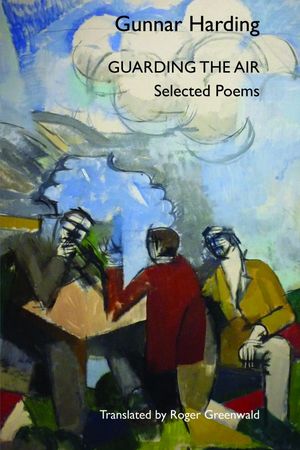 "It's hard to believe these poems are translations—they are so clear, so exhilarating, have such an immediate and uninterrupted effect. Yet one knows they must be, because there is nothing like them in English. These invariably lively, lyric meditations and journeys to every imaginable time and place show that Gunnar Harding is a great contemporary poet; and in Roger Greenwald's translations we may have him as if for our own."— Kenneth Koch
GUNNAR HARDING, perhaps the most prominent living Swedish poet after Tomas Tranströmer, started as a jazz musician, studied painting in Stockholm, and made his literary debut in 1967. He has published—in addition to translations and non-fiction—eighteen volumes of poetry. In 1992 he was awarded the Bellman Prize by the Swedish Academy, and in 1995 Svenska Dagbladets Literature Prize in recognition of his important role in Sweden's literary life since the 1960s. In 2001 he won the prestigious Övralid Prize, and in 2011, the Dobloug Prize from the Swedish Academy.
Harding's appealing poetry is marked by a strong intellect and a great gift for imagery. Anselm Hollo described it as "a tapestry that is musical as well as visual—humorous, bluesy, and always compassionate." Guarding the Air is the first large selection of Harding's poetry to appear in English: 112 poems drawn from eleven of the thirteen books Harding has published that contain poetry in verse. As well as line drawings by the poet, the book contains a brief introduction by the translator, a guide to the poetry in the form of Harding's prefaces to his three Swedish volumes of selected poems, and extensive endnotes.
‡
ROGER GREENWALD has won the CBC Literary Award twice (for poetry and travel literature). His books include Connecting Flight (poems), Slow Mountain Train (poems), and North in the World: Selected Poems of Rolf Jacobsen, winner of the Lewis Galantière Award.
Boston: Black Widow Press, 2014.
ISBN 978-0-9856122-7-6
English only; 321 pages; 9 x 6 inches
acid-free paper; perfectbound; US $24


Read four poems from Guarding the Air

Read reviews of Guarding the Air

Watch the launch at Ben McNally Books, Toronto, 8 May 2014 (below)
Order Guarding the Air from
Black Widow Press
or
your local independent bookstore, if you are lucky enough to have one;
or from:

Amazon.com, Amazon.ca, Amazon.co.uk, Amazon.de, Amazon.it, Amazon.es, Amazon.fr, or Barnes & Noble