T H E T I M E I N M A L M Ö

O N T H E E A R T H

By Jacques Werup

Translated and introduced by Roger Greenwald

"FOR OVER A DECADE NOW, ONE OF THE MOST REMARKABLE WORKS OF POETRY PRODUCED IN OUR COUNTRY." —Hans Åkerberg, 1985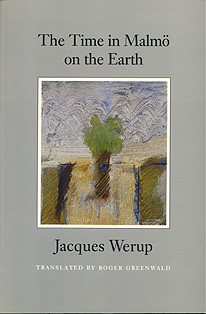 Jacques Werup, born in 1945 in Malmö, Sweden, made his literary debut in 1971 and has since published some twenty-five volumes: poetry, fiction, travel writing, translations. He has also presented his poetry in musical recitations, both on tour and on a CD issued in 1995.
The Time in Malmö on the Earth (1974) is a unified series of poems based on the poet's daily life and reflections in 1970-73, when he was struggling to recover from a kidney ailment.
The poems address the local and the universal, the personal and the political, the ephemeral and the eternal. Werup combines an openness to experience, an appetite for life, with a strong impulse to do justice to conflicting reactions, unavoidable oppositions. And writing with nervous energy and a playful genius for juxtaposition, he achieves here a musicality rare in Swedish poetry. By the end of the book, the poems have flowed together to yield a manifold portrait of a life in a city in a world.
‡
Roger Greenwald has published one book of poems, Connecting Flight (1993), several volumes of poetry in translation from Norwegian and Swedish, and two novels translated from Swedish. He has earned major awards for his poetry, including the CBC Radio / Saturday Night Literary Award (1994), as well as several translation prizes.

Toronto: Exile Editions, 1989. Distributed by HarperCollins, Toronto.
English only.
ISBN 0-92042850-9
Paperback, 12.95.