T H E S I L E N C E A F T E R W A R D S

SELECTED POEMS OF ROLF JACOBSEN
Translated and edited by Roger Greenwald
Introduction by Roger Greenwald; Foreword by Poul Borum

WINNER OF THE F. R. SCOTT TRANSLATION PRIZE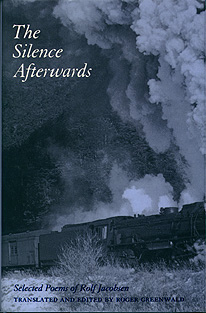 OUT OF PRINT — BUT FEAR NOT!

A new, larger, updated and revised collection of my translations of Rolf Jacobsen's poetry has been published by the University of Chicago Press:


"Masterly [English] versions of selected poems by the ... Norwegian modernist Rolf Jacobsen, ... one of the West's greatest twentieth-century poets, who may be ranked on a par with Auden, Eliot and Montale" —David McDuff in Stand Magazine
"Word for word and measure for measure, these English renderings of Rolf Jacobsen's poems are as close to the originals in meaning and meter as translations of poetry can possibly be.... Poetry lovers, in general, and students of Norwegian poetry, in particular, will find the Jacobsen/Greenwald duet rich-toned and enthralling and the 'silence afterwards' strangely disquieting." —Frankie Shackelford in Scandinavian Studies
Rolf Jacobsen launched poetic modernism in Norway with his first book, Earth and Iron (1933). In a career that spanned more than fifty years, he published a body of work that earned him international recognition and established him as one of Scandinavia's great modern poets. (For more about Rolf Jacobsen, see World Authors 1985-1990 [Wilson, 1995].)
The Silence Afterwards, the first extensive selection of his poetry to appear in English, presents ninety-six poems drawn from the first eleven of Jacobsen's twelve books. The editor and translator, Roger Greenwald, has chosen the poems on the basis of their power and appeal, with the aim of bringing into English Jacobsen's best work.
The introduction by Mr. Greenwald provides background for readers unfamiliar with Norwegian poetry and considers some of the qualities that make Jacobsen's writing both accessible and enduring. A foreword by the Danish poet and critic Poul Borum places his work in the context of modern European poetry.
The Norwegian texts in this bilingual edition were carefully edited in cooperation with Rolf Jacobsen so as to ensure that they were authoritative.
‡
Roger Greenwald has published one book of poems, Connecting Flight (1993), several volumes of poetry in translation from Norwegian and Swedish, and two novels translated from Swedish. He has earned major awards for his poetry, including the CBC Radio / Saturday Night Literary Award (1994), as well as several translation prizes.
Princeton: Princeton University Press, 1985.
Bilingual edition: Norwegian (Bokmål) and English.
ISBN 0-691-01424-8 (paperback)
ISBN 0-691-06647-7 (cloth; sewn binding; alkaline paper)