D I D I K N O W Y O U ?

31 POEMS BY ROLF JACOBSEN
Translated and edited by Roger Greenwald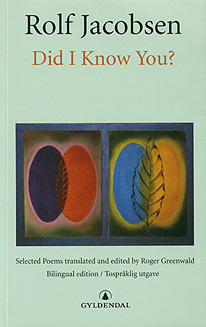 OUT OF PRINT — BUT FEAR NOT!
A new, larger, updated and revised collection of my translations of Rolf Jacobsen's poetry has been published by the University of Chicago Press:


This selection of thirty-one poems by Rolf Jacobsen spans most of the poet's career and includes a suite of poems from his final book, Night Watch, which became the best-selling book of poetry published in Norway in fifty years.
Jacobsen has broad appeal because his work is open and accessible, yet at the same time contains depths that never cease to reward repeated readings. His unassuming mastery of language and image is a delight to anyone who loves poetry.
The poems are presented here with carefully edited Norwegian texts facing the English translations.
‡
"Discovering Jacobsen was a joy. I am grateful to his translator, Roger Greenwald."   —Czeslaw Milosz
"One of the West's greatest twentieth-century poets, who may be ranked on a par with Auden, Eliot and Montale."   —David McDuff, Stand Magazine
"Rich, striking and deeply original. . . . In an age of literary artificiality and elaborate echoes . . . he succeeded in preserving an unguarded simplicity, fresh as springwater."   — Torsten Ekbom, Dagens Nyheter



Oslo: Gyldendal Norsk Forlag, 1997.
Bilingual edition: Norwegian (Bokmål) and English.
Paperback only. ISBN 82-05-24866-4